Lara's story: Losing someone I love to suicide
Every grief journey is uniquely complex and deeply personal. Nothing can prepare an individual or a family for the moment that you're told someone you love to suicide.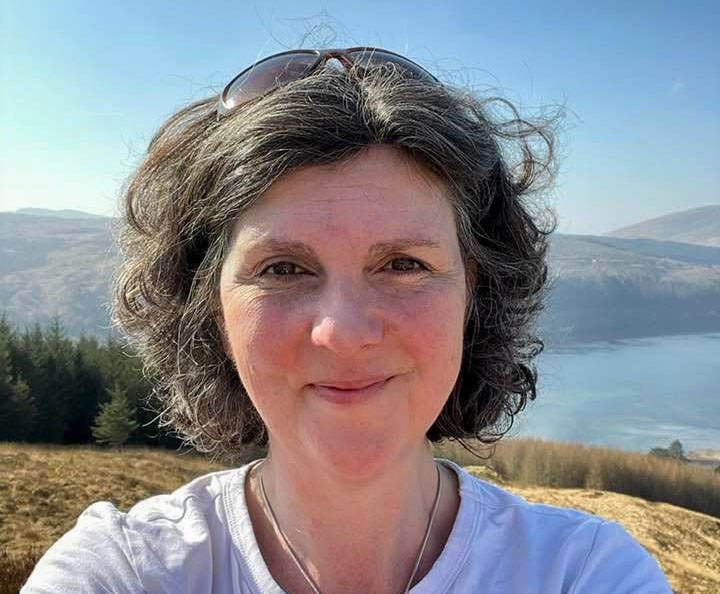 My story began in August 2019, when a police officer came to my door to tell me that my wonderful and only brother, Graeme, had died by suicide. I want to tell you my personal experience of losing someone I love to suicide.
It was a Saturday evening and we were entertaining friends who had travelled from Bristol to visit us in the Highlands. We were relaxing and having some early evening drinks, laughing and joking about the day we had spent with our children. And then there was a knock. As soon as the police officer asked if I had a brother in Edinburgh, I knew that it must be bad news. The rest of what was said was a blur, although I do remember that he used the words 'committed suicide'. My head swum, I felt sick and I know I collapsed to the ground outside our home.
The police had found my contact details in an address book in Graeme's flat. They came to me to inform his family, and then they walked away. I was left to deal with the fallout, to break the news to our elderly parents, my sister and all of Graeme's friends. There was no information on what would happen next, who to call or how to retrieve Graeme's body. No leaflets on where to go for help or support. No support at all. It felt like a bomb had gone off, and I was walking around in a daze.
"Nothing can prepare an individual or a family for that moment. To hear that someone you love, and have spent your life loving, has chosen to end their own life was unthinkable and horrific. And after the initial shock started to wear off, I was left with overwhelming feelings of despair, guilt, anger, shame and fear, alongside a never-ending list of unanswerable questions."
In many ways, however, I was fortunate – I had a husband who picked me and my family up and carried us all through the following days and weeks. He spoke to the police; he spoke to the Procurator Fiscal; he went to my brother's flat and made it ok for us to visit; but most importantly, he made us talk. And for a family where emotions are not expressed and difficult conversations are avoided, that was hard.
But for me, it turned out that talking was a key to helping process the pain. In the days and weeks following Graeme's suicide, I was obsessed about all the signs I had missed, all the things I could have done to prevent his death. I felt so guilty and ashamed that I hadn't known how bad he felt.
And then there was the way that I had discovered the news. I couldn't let go of being told that Graeme had 'committed suicide'. Hearing these words from a police officer was so upsetting.
He hadn't committed a crime. He had died in the saddest of ways. When I started to confide all of this to my husband, it opened a floodgate of emotion. But talking it through and gradually expressing the hurt, the guilt, the anger and the shame helped. And even now, it continues to do so.
It was only after some time had passed and that I was able to reflect back on that initial period after Graeme died, I realised that a lot of people who have gone through what I have don't have any emotional support or an outlet that allows them to talk freely about their feelings. So, when I saw my current role being advertised, I knew that I had to apply. I felt compelled to work for a service that had been set up to help people like me. People who, never in a million years, thought this would happen to them or their family and who desperately needed the support we didn't receive.
I am the Project Manager for the Suicide Bereavement Support service in the Highlands, working for Change Mental Health. The Suicide Bereavement Support service was launched in August 2021 and I am proud to say, has just completed its first year of support. In that period, we have received over 100 referrals in the two pilot areas we work in – Highland and Ayrshire & Arran. We have provided a safe place for bereaved people to talk about their feelings and to be heard; and we've helped in practical ways by talking to the police, social workers and hospitals.
As someone who sees the value in our service every day and knows the positive impact it is having on people's lives, I very much hope that the Suicide Bereavement project will continue to be supported by the Scottish Government and will be rolled out across the whole of Scotland in the near future, so that everyone who is bereaved by suicide can get support they need when they need it.
The phone number for the Suicide Bereavement Support Service is free and confidential. Leave a message on 0800 4714768, and we will respond within 24 hours. Alternatively, email suicidebereavementsupport@nhs.scot or contact Lara to learn more about the service.
If you or someone you know is struggling with their mental health or feeling suicidal, read our resource on suicidal thoughts or explore the support we provide across Scotland.
Our Advice and Support Service is open Monday to Friday, 10 am to 4 pm, where advisers can signpost you to local support that most fits your needs, including our own Change Mental Health services. We offer initial advice on money worries and help to deal with emergencies.
Contact 0808 8010 515, email us at advice@changemh.org or fill out the enquiry form on the Advice and Support Service page.