Janice: The priority is the carer
Often carers feel overwhelmed and are reminded that they can't forget about themselves, instead encouraging them about self-care and their own health and wellbeing.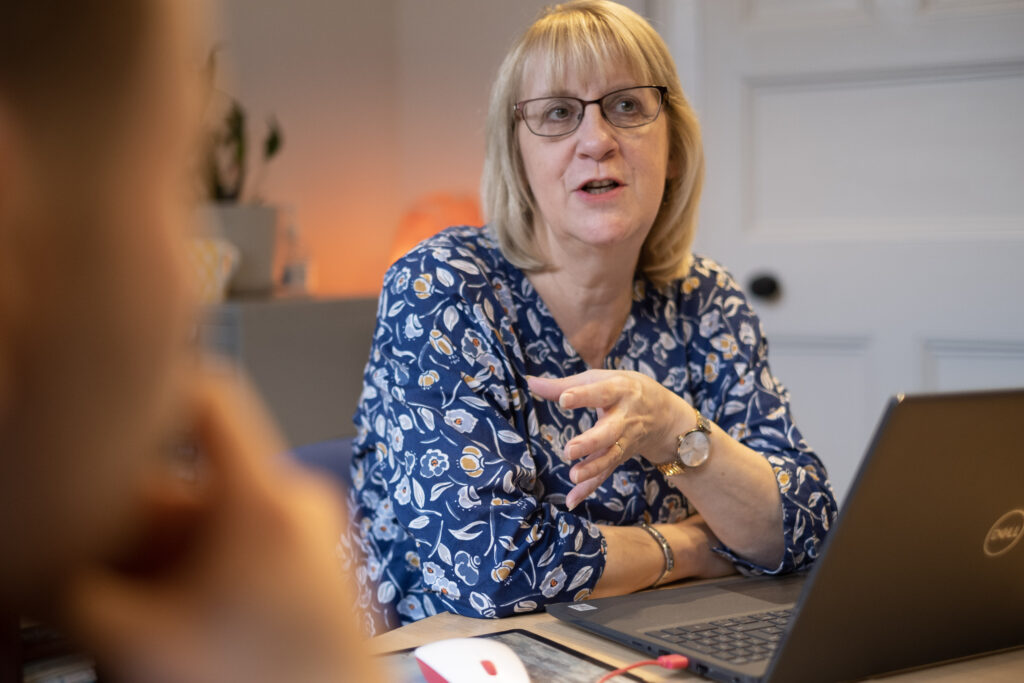 Janice Mylan is a Carer Support Worker for Change Mental Health and empowers carers to actively think of their own health and wellbeing and self-care.
Janice has lived experience of being carer, having two sons who are neurodiverse along with mental health challenges. Having worked with other charities such as Tourettes Scotland as a trainer, in outreach, as Chair, and, as Janice would say, "everything you could think of," Janice has worked with many people with mental health issues.
"From a personal experience, I've supported my sons for years through their difficulties and I know how hard it is for carers to actually access what they're entitled to and what they should be getting."
That lived experience for Janice was the difficulty that carers have in what they should be getting but learned that there is help out there. It's about knowing how to access it and discovering who is out there to help you – especially when carers can sometimes be in the middle of a crisis.
Listening is a very important part of the job and Janice treats everyone differently, ensuring that people are signposted to relevant services and information where necessary across local areas such as Tayside.
"My approach is listen carefully to what the carers are looking for. Sometimes they just need someone to listen to them and believe them, and carers often say they never get that treatment.
"Occasionally, you have to step in and take people through certain processes or speak to someone on the carers' behalf, such as local authority or another third sector organisation, or whoever that might be."
Janice believes in using the 'circle of support' model, combined with a person-centred approach, helping carers to build a network of support around them and can be adapted to each individual. It is used consistently with fellow Carer Support Worker in Perth and Kinross, Sheila, who was a peer to Janice and described the way it is used day-to-day when support carers.
"It's amazing the skills we all have in this office, the things people know. If I don't know, someone else quite often does."

Ultimately, it's about the carer and building a network of support around them that enables them to live an independent life.
"The very centre of it all and the priority is the carer. And so, you remind carers all the time, every day, 'what about you?' They will talk about the cared-for person all the time.
"It might be that you get them to think about their own fitness. You get to know the person and what they like – sometimes you'll get talking to them about music or hobbies, for example. Everyone is different. They might just need a little bit of help and listened to for a wee while. Sometimes you'll find as you dig deeper, there's quite a lot to do."
"When a carer comes to us they can often feel overwhelmed – both with what they're having to deal with on a day-to-day basis with their loved ones but also dealing with services. The main thing is that they've lost who they are and they forget about themselves. A big part of what we do with Carers' Support is to remind people that they're their own person, to encourage self-care and their own health and wellbeing.
"We do that with everyone we speak to because if you don't look after yourself, you can't look after others."
Janice,
Carer Support Worker, Tayside
Our Advice and Support Service is open Monday to Friday, 10 am to 4 pm, where advisers can signpost you to local support that most fits your needs, including our own Change Mental Health services. We offer initial advice on money worries and help to deal with emergencies.
Contact 0808 8010 515, email us at advice@changemh.org or fill out the enquiry form on the Advice and Support Service page.