Michele attends Loyal Address
Michele, Area Manager for Edinburgh, attended the Loyal Addresses by Privileged Bodies at Buckingham Palace.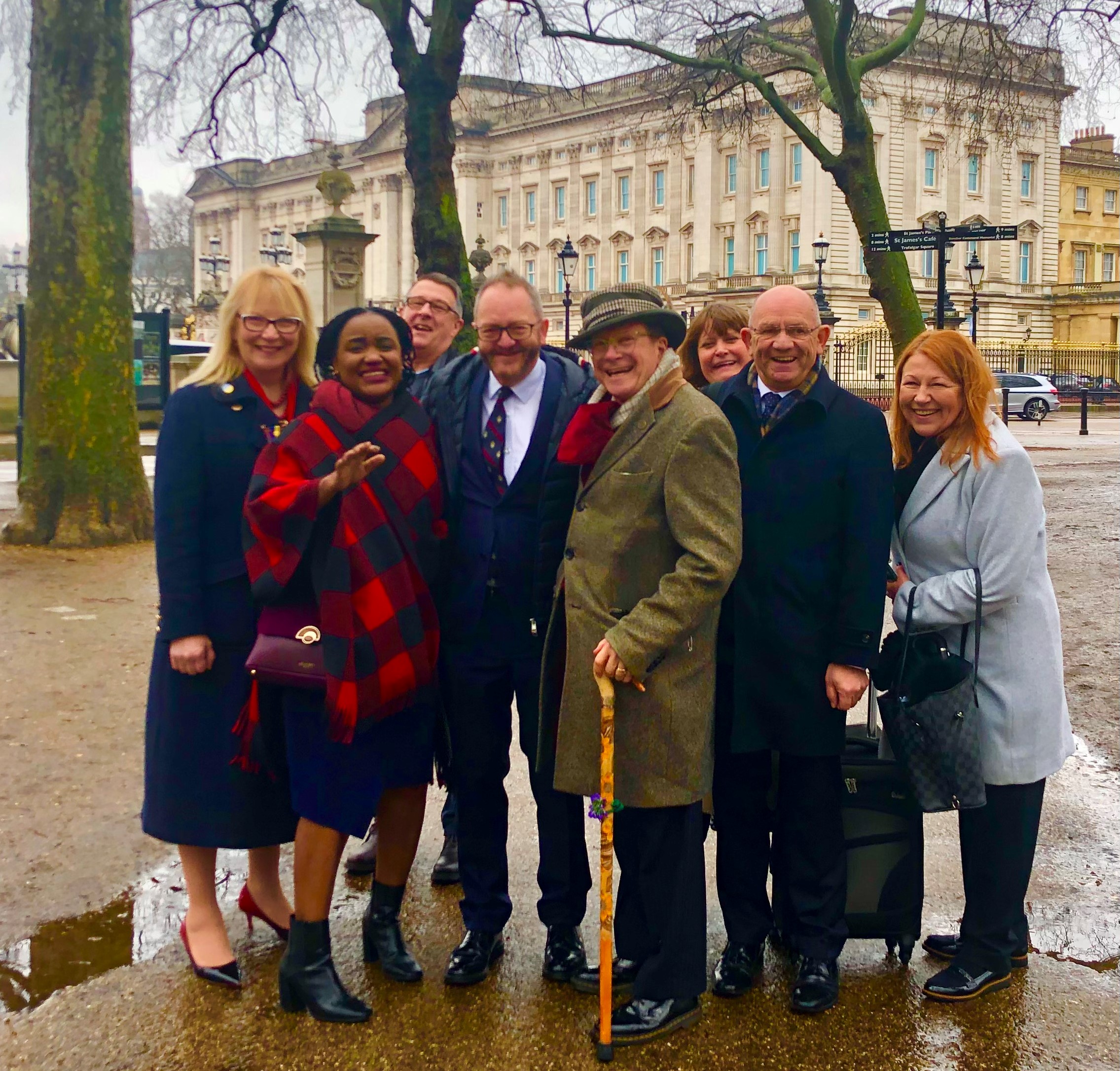 Michele Mason, Area Manager for Edinburgh at Change Mental Health, was nominated by Edinburgh Voluntary Organisations' Council (EVOC) and the Lord Provost Cllr Robert Aldridge to represent the third sector at the Loyal Addresses by Privileged Bodies at Buckingham Palace.
Through Michele's work at Change Mental Health and the Health and Social Care Partnership in Edinburgh, this recognition was completed with the Lord Provost Cllr Robert Aldridge, Joe Goldblatt (Emeritus Professor), Debora Kayembe (Rector at Edinburgh University), Hanna Beaton (Association of Ukrainians in Great Britain), Heather Yang (Core Services Manager at Volunteer Edinburgh) and Steve Brown (City Officer at City of Edinburgh).
Complete with her travel companions, it was a 4am alarm call down to meet at a very deserted Edinburgh Waverley train station to aboard the 5.40am 'Flying Scotsman'. The trip was not without its weather warnings, meaning covers of snow as the train darted through the country and a predictable hour late entry into London.
Michele penned a little diary about the day trip down to London for this very special event.
"Arriving at Buckingham Palace, we were in the gorgeous ballroom with the Countess of Wessex String Orchestra playing a selection of music. Our names were beside famous people you usually only see on TV in the beautiful event programme. As the room started to fill, you could feel the excitement.
The King arrives. The Archbishop of Canterbury begins the first of 27 addresses and it was fantastic to see one of our travel companions, the Lord Provost, deliver the ninth address!
After the final address and the King's response, it was off to the picture gallery for the reception. I didn't know what to expect until Lieutenant Colonel Johnny Thompson gathered the Edinburgh group together and within a minute the King was standing with us chatting and shaking our hand – asking us who we all were and what we did."
"The King made us all feel so at ease – it was an unreal feeling. During this pleasant chat, the King wanted to know what impact the pandemic had on people's mental health."
Michele
"This was a once in a lifetime opportunity. We took a wander and engaged in several conversations: Mayor of London, Sadiq Khan, spoke abut the politics in London and Scotland.
It was followed by Lord Patten, ex-governor of Hong Kong. We spoke about how I remembered him leaving Hong Kong aboard the Royal Yacht Britannia with his two dogs (Whisky and Soda) and how the yacht is now berthed in my local Leith.
We engaged in so many more conversations: Dame Katherine Grainger (Chair of UK Sport), former Liberal Democrats leader Sir Menzies Campbell, and Governor of the Bank of England Dr Andrew Bailey.
We regrouped with the travel party back to Edinburgh, equipped with a gold Buckingham Palace carrier bag memento from their staff holding my very wet umbrella. Not even a cancelled train at Kings Cross could dampen our spirits, eventually arriving 18 hours after we set off for what was an amazing day and a total privilege."