Building Resilience in North Ayrshire
How Your Resilience continues to support young people in North Ayrshire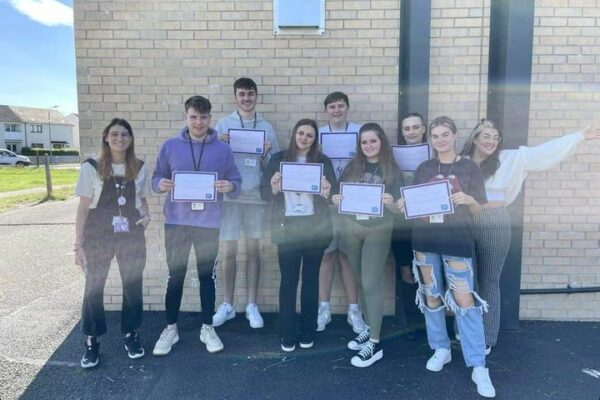 North Ayrshire, located in the west of Scotland, is the 5th most deprived Council area in Scotland. With studies showing that individuals from deprived backgrounds are more likely to experience poor mental health outcomes, North Ayrshire Youth Services decided to participate in Your Resilience as part of their organisational drive to be proactive about mental health and wellbeing in young people. They wanted to provide early interventions to help the young people they work with build social and emotional skills for learning and life.
Staff at North Ayrshire Youth Services completed the Your Resilience training in 2021. Nearly two years after completing the training Vicki Andrew, Project Delivery Officer at North Ayrshire Council, continues to deliver the programme to several groups, including their Modern Apprentice group and young people who have disengaged with education at the HIVE, North Ayrshire College. She has now delivered to over 45 young people and built positive, trusting relationships with the young people and organisations she has worked with.
The HIVE, Ayrshire College
The mission of the HIVE at Ayrshire College is to enhance young people's employability skills, confidence, teamwork, communication, self-esteem, and motivation in order to support them into employment or mainstream courses. Many of the students at the HIVE are Care experienced, and have ASN, ADHD, behavioural issues, autism, anxiety, depression, trauma and mental health issues.
"Initially, young people do not know what Resilience means, whereas, after the session, our young people understood and engaged in open discussion of barriers they might have faced.", Vicky explained.
---
An Impact Report prepared by the HIVE highlighted the positive outcomes of the programme:
"The sessions have been invaluable for our students. Vicki and her staff have been amazing and were able to create a safe environment, build positive, trusting relationships with our young people, equip them with the tools and knowledge to reach out with any concerns and have better resilience, which has had a positive effect on their mental wellbeing. I am hoping this partnership can continue, which will enable us to reach out to a lot more young people."
---
Vicky outlined examples of how young people demonstrated resilience in a variety of different life situations, such as friendship issues where a friend has a new relationship, and the other feels left out to bigger issues such as bereavement.
"The programme helps by giving the young people a greater understanding of their own ability to deal with life's situations," she says. Vicky has observed both short and long-term differences in the young people she delivers Your Resilience too.
"Short-term changes were things like the respect and understanding toward their peers in their current groups where relationships may have been strained. Friendships, Social Pressures and Resilience are all addressed by the programme – these are key areas that have become specific objectives with the schools/community groups I have worked with.
"Longer term, the young people completing this programme will have an understanding of their own social and emotional awareness and be able to deal with issues in life more proactively."
She also spoke about the impact the programme has had on her personally and how she uses the toolkits on a daily basis in discussions with young people and their peers to help plant the seeds of early intervention understanding.
What North Ayrshire Modern Apprentices have to say about Your Resilience?
"I have a better understanding and awareness of what helps me"
---
"Widening my knowledge on this new topic helped my personal and professional growth"
---
"I learned how to use visualisation and how to calm down"
---
"I learned how to positively bounce back from certain situations."
Want to learn more about young people's mental health resilience and the support we deliver to schools and colleges across Scotland?
If you need further information about Bloom or want to enquire about online training, resources or how we can help your school or college, contact the Your Resilience team.
Do you have any more questions about the support Change Mental Health delivers across communities in Scotland? Contact our Advice and Support Service.