Bloom – Beyond the Classroom
Delivering Bloom Lite in an after-school setting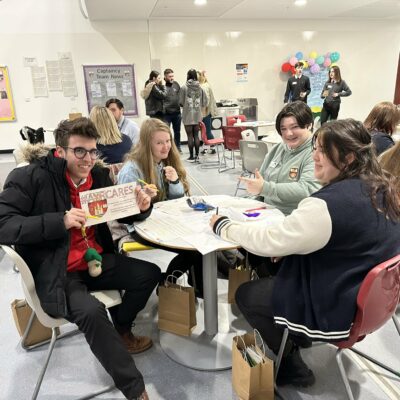 Guidance teacher Lauren Butler-Robson at Ayr Academy, South Ayrshire got in touch with the Bloom team to see how we could support a Mental Health Awareness evening for S4-6 Pupils and their parents/carers, 'AyrCares'.
The event came about in response to a South Ayrshire survey in which young people reported that their parents/carers were usually their first point of contact when seeking advice or information about mental health.
The Ayr Academy team planned to run both student and parent-focused workshops led by mental health experts such as school counsellors, educational psychologists, and mental health charities.
By creating a space in which students and parents could learn together, the academy hoped to make parents and carers to feel more confident in supporting positive mental health in their child and more knowledgeable about how to access further support for their child if required. They also hoped to ensure that students, parents and carers could all go into the upcoming exam season feeling supported and confident in managing exam stress, anxiety and maintain positive mental health in this high-pressure period.
Hannah Dibnah, Service Manager for Bloom and Your Resilience at Change Mental Health, suggested that our Bloom Lite Exam Pressure workshop could help them meet this goal, as it provides a comprehensive explanation of how the brain works when a person is stressed, compared to when they are relaxed and focused.
The Exam Stress session was well received by both young people and parents. 100% of pupils who completed the end survey felt they had a better understanding of resilience and felt they could use the tools they learned later in life.
"There was a look of amazement when I told young people it is ok NOT to study 6 hours straight the night before an exam," observes Training Associate Yvonne, who delivered the workshop. "The look of relief that it's ok to take breaks, switch off and study for shorter periods of time was lovely to see."
After the event, there was tea and cake and a chance for pupils, teachers and parents to have a chat with Yvonne about the session and mental health in general. AyrCares gave participants a goodie bag to take home with them, which included our Bloom Exam Stress Toolkit, and Mental Health UK's conversation guide for talking to your friends about mental health.
"It was great to emphasise that we all have mental health, and at key stages of our life, we can all experience additional pressures and stresses, such as dealing with exam stress which can take a toll on our well-being."

-Lauren Butler-Robson, PT Guidance Teacher.
Want to learn more about young people's mental health resilience and the support we deliver to schools and colleges across Scotland?
If you need further information about Bloom or want to enquire about online training, resources or how we can help your school or college, contact the Bloom team.
Do you have any more questions about the support Change Mental Health delivers across communities in Scotland? Contact our  Advice and Support Service.