Young People's Programmes Impact Report 2021-22 is out!
Supporting young people's mental health with Bloom and Your Resilience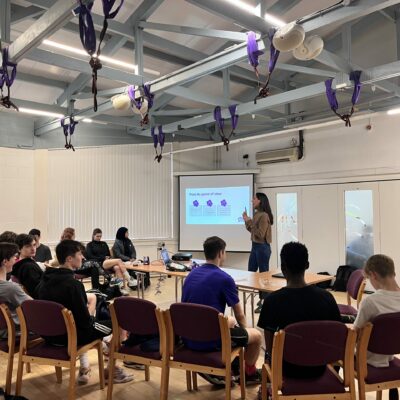 Rates of mental illness among young people have risen sharply in recent years, with one in four young people aged 17-19 experiencing mental illness. Meanwhile, the average waiting time to start work with Children and Adolescent Mental Health Services (CAMHS) has reached 10 months. Young people desperately need the tools and awareness to build their resilience and confidence at life-changing moments of transition.
Since their launch in 2019, Bloom and Your Resilience have significantly contributed to the mental wellbeing of young people across Scotland and the rest of the UK.
Founded by Mental Health UK and delivered by Change Mental Health, our programmes have equipped young people aged 14-18 in different areas of Scotland with the knowledge and tools to maintain their mental health resilience through life transitions.
The 2021- 2022 Impact Report highlights the fantastic results of both programmes, with all four outcomes achieved! We are delighted that the Bloom and Your Resilience programmes have supported 5097 young people in Scotland. 86% of our survey respondents felt more confident in understanding and maintaining their mental health and 63% rated the overall programme as better than expected.
Not only does Bloom and Your Resilience support students, but the programme content also equips young people with resilience tools and skills to have supportive conversations about mental health with their families and friends. 93% of respondents to the Your Resilience survey said they felt better able to support their loved ones!
The commitment and dedication of educators and facilitators are a vital part of the success of both programmes. Through our Young People programmes in Scotland, we have trained 463 teachers & facilitators across 28 council areas while delivering 316 workshops to support young people in schools and colleges! 71% of facilitators trained by the Your Resilience team reported increased confidence in talking to young people about mental health.
---
"Nothing, in my experience, has matched, or even come close, to the added value of Bloom. (…) From excellent training to dedicated and user-friendly resources – the programme has much to recommend it. Feedback from teachers (many of whom are very experienced PSE supporters) has been very positive."

John Chalmers, Deputy Head of Nairn Academy
---
A few words from the Bloom and Your Resilience team
Hannah Dibnah, Service Manager for our young people's programmes, said: "Seeing our Young People's programmes' positive impact on young people, educators, and facilitators is encouraging. I am incredibly proud of our work so far. We have provided vital support to many young people during a particularly challenging time, increasing their ability to adapt and cope in times of great uncertainty and change."
"We are committed to developing our work with young people in schools and colleges and supporting and training professionals to ensure they are equipped to have conversations about resilience with the young people they support. We also look forward to expanding our work in community settings to reach marginalised young people at the most risk of mental illness."