David's story: Combating isolation and loneliness
It's places like our community hub Stafford Centre that has helped people like David overcome isolation and cope with their mental health conditions. Despite once being told he didn't have any talent by an art teacher, having his art exhibited has given him hope.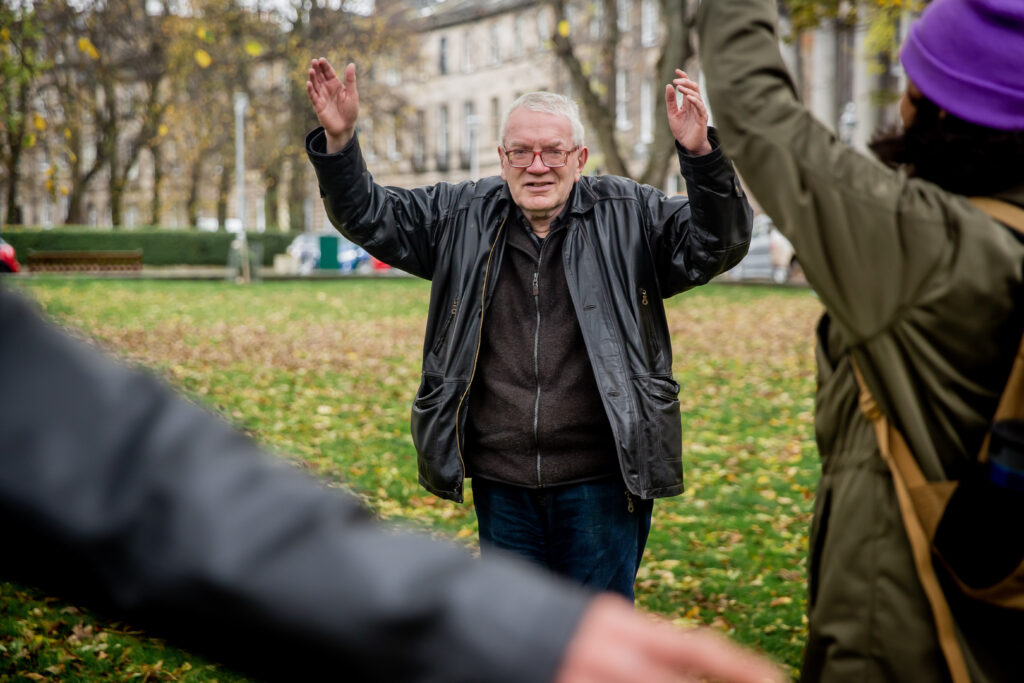 David experienced isolation and loneliness almost all his adult life. This caused feelings of depression and paranoia, making it more difficult to reach out for help. Thanks to support from services like the Stafford Centre in Edinburgh, David now has a valued social life and creative passions.
By taking part in art classes and walking groups, David built confidence to socialise and grow friendships, which has helped him manage feelings of depression and loneliness for the past 10 years.
"I felt isolated as my family lived far away and I didn't have a circle of friends. I experienced a bereavement and struggled with depression for many years. The isolation and depression made me even more reluctant to reach out for help because I didn't have any confidence and didn't like the thought of being around people.
"I had a lot of fear and paranoia that people wouldn't like me. Because of that I grew bitter towards the world. It was like a vicious cycle because the longer I was isolated, the more bitter and lonely I became, and at times this made me angry and unpleasant to be around. My loneliness made it less likely for people to want to be around me. It made me believe people didn't want to be around me."
When David reached out for support, he was referred to another mental health service called Outlook Project, which provides adult learning classes to people experiencing mental illness. During his time at Outlook, David found his passion for art and started to talk to people and make friends for the first time in his adult life. In 2013, he was encouraged to visit the Stafford Centre due to his love of art and opportunities to socialise in group activities.
The Stafford Centre in Edinburgh has been supporting people with their mental health in Edinburgh and the surrounding areas for over 30 years. It's a community resource for people experiencing poor mental health with the aim of helping people to manage their mental wellbeing, gain greater self-confidence and become more integrated within the community.
The centre operates as a drop-in where people can enjoy the company of others in a relaxed, friendly and safe environment and begin to build supportive networks. The priority is to promote wellbeing and recovery, reduce feelings of isolation, and foster a sense of belonging.
In addition to outreach, one-to-one support and counselling, The Stafford Centre offer various group activities to support mental health, such as Tai Chi, art, music, wellbeing, walking, Yoga, and crafts. The centre also provide a cafe, a place where people can enjoy homemade soup and socialise with other visitors.
"The Stafford Centre has all sorts of classes – I was doing Tai Chi for a while. It's nice to have different activities you can try with other people. I've noticed myself feeling much more confident over the years when chatting to different people and socialising. The place has always felt informal and it has a really lovely atmosphere. It's a safe and non-judgemental place where you know they won't look down on you. There's still a lot of stigma towards mental health and some people still associate it with people being violent, which is untrue. But you don't get any of that stigma around here and there should be more aware about what mental health actually is."
"Thanks to the support I've received my mental health has got a lot better. I'll probably have depression for the rest of my life, but I can manage it now. I can go without anti-depressants and when I do get feelings of depression, I've got a lot of help to keep it at bay. Days when I'm down I know I have somewhere to go and I know the staff will help.
"Stafford Centre is unique because they can help people with such a variety of things. Whether that's mental health issues or financial issues like debt and benefits – they will always try to help or find someone else who can help you."
David,
Edinburgh
Thanks to his connection to the Stafford Centre and other relationships he's built over the years, David feels like he can keep in touch with everyone.
"I think the art classes are marvellous. They can also be very therapeutic. I do art at home now. When I was at school, a teacher told me I wasn't good at art and for a long time I believed them. I told myself I couldn't do art because I wasn't good enough, but now I've sold pictures at the Stafford Centre… so I can't be that bad!
"The staff here have been such a great help and have became valued friends. I feel like they trust me and that's helped me build a lot of confidence. Activities like the art classes and walking groups give me a reason to get out of bed. I know I won't get lonely again because I know I don't have to go through anything alone. All my adult life I never had friends, but I'm so glad that isn't the case anymore. If not for their support it's likely I would not be here.
"I've lost many friends to depression, and I often wonder what might have happened to me if I hadn't reached out to get the support I needed. I hope anyone else that feels isolated or lonely finds a service they can reach out to."
Our Advice and Support Service is open Monday to Friday, 10 am to 4 pm, where advisers can signpost you to local support that most fits your needs, including our own Change Mental Health services. We offer initial advice on money worries and help to deal with emergencies.
Contact 0808 8010 515, email us at advice@changemh.org or fill out the enquiry form on the Advice and Support Service page.