Mo's story: They see me, not my illness
Change Mental Health has been a huge lifeline for Mo. After losing all confidence and shutting herself away, support in Dumfries has enabled her to ease feelings of isolation while gaining a sense of purpose.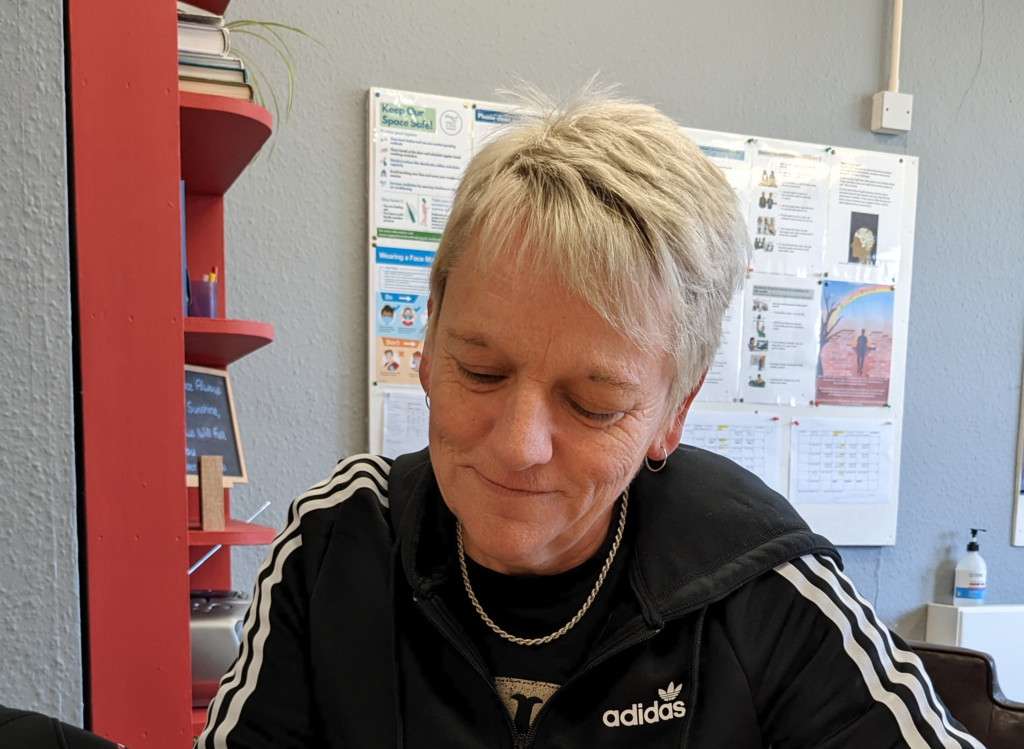 Change Mental Health is a place which helps me with my feelings of isolation, lack of confidence and gets me involved in lots of activities – all of which have helped me and given me a sense of purpose. The people going there are very accepting, friendly and non-judgemental. It often feels like they have become my extended family. They see me, not my illness!
It's been a huge lifeline to me. I lost all my confidence and was not in a good place. I shut myself away from the world. Having their support has helped me to leave the house and regain that confidence and self-esteem. I almost don't have the time to tell you about the huge differences they have made to my life and how much they have helped me.
I started receiving support and attending their service at Kaleidoscope. At first, just being there was a huge challenge. It didn't take long for me to realise that I had found a safe, relaxed and friendly place, where I could just be myself. The best thing of all, was I realised that I was not on my own. The support everyone receives from each other who attend plays a key factor in making this service work. The staff are supportive, friendly and approachable, making me feel at ease straight away. They gave me the chance to move at a pace I felt comfortable with and let me begin to grow when I was ready. I've never felt pressured, pushed or hurried in any way.
They informed me of all the activity, social support on offer. When I felt up to it, I started getting involved in different things – activities I had never done before. Instead of being shut away, doing or seeing no one, I was getting out and doing things I enjoyed. Even getting involved in things I used to enjoy again has enabled me to grow. All this has made a huge positive difference to my life. It helps me maintain both my physical and mental health while managing and coping with my illness better.
My self-management has improved and now I am delivering talks to Mental Health Nursing students at universities and colleges. Raising awareness of borderline personality disorder (BPD) will help other people and those with a mental illness to understand the condition more. From my experience, peer support works extremely well and I cannot underestimate the importance of learning from someone who has lived experience of living with a mental illness. I had a passionate dream about starting a user-led peer support group for BPD and now it has become a reality. Besides myself, it is always positive to watch others grow and blossom as well.
The staff at Change Mental Health treat everyone as an individual and their person-centred approach is second-to-none. They do exactly what it says on the tin. Every area of their support has enabled me to realise that perhaps I can have a brighter future and life is worth living. Whether it be getting advice, supporting me with something or just being there for me to talk to, sometimes I just need someone to listen and not try to fix me.
I cannot praise the service I receive from Change Mental Health highly enough. They are always there when I fall or when I am doubting myself. They encourage me to get back on my feet again and their positive approach is invaluable. They have given me the opportunity to get my life back again.
Mo receives support from our Kaleidoscope service in Dumfries.
Our Advice and Support Service is open Monday to Friday, 10 am to 4 pm, where advisers can signpost you to local support that most fits your needs, including our own Change Mental Health services. We offer initial advice on money worries and help to deal with emergencies.
Contact 0808 8010 515, email us at advice@changemh.org or fill out the enquiry form on the Advice and Support Service page.