Celebrating 50 years at our Parliamentary reception
We celebrated 50 years of supporting people affected by mental illness and officially honoured the new name, brand and strategy with a reception at the Scottish Parliament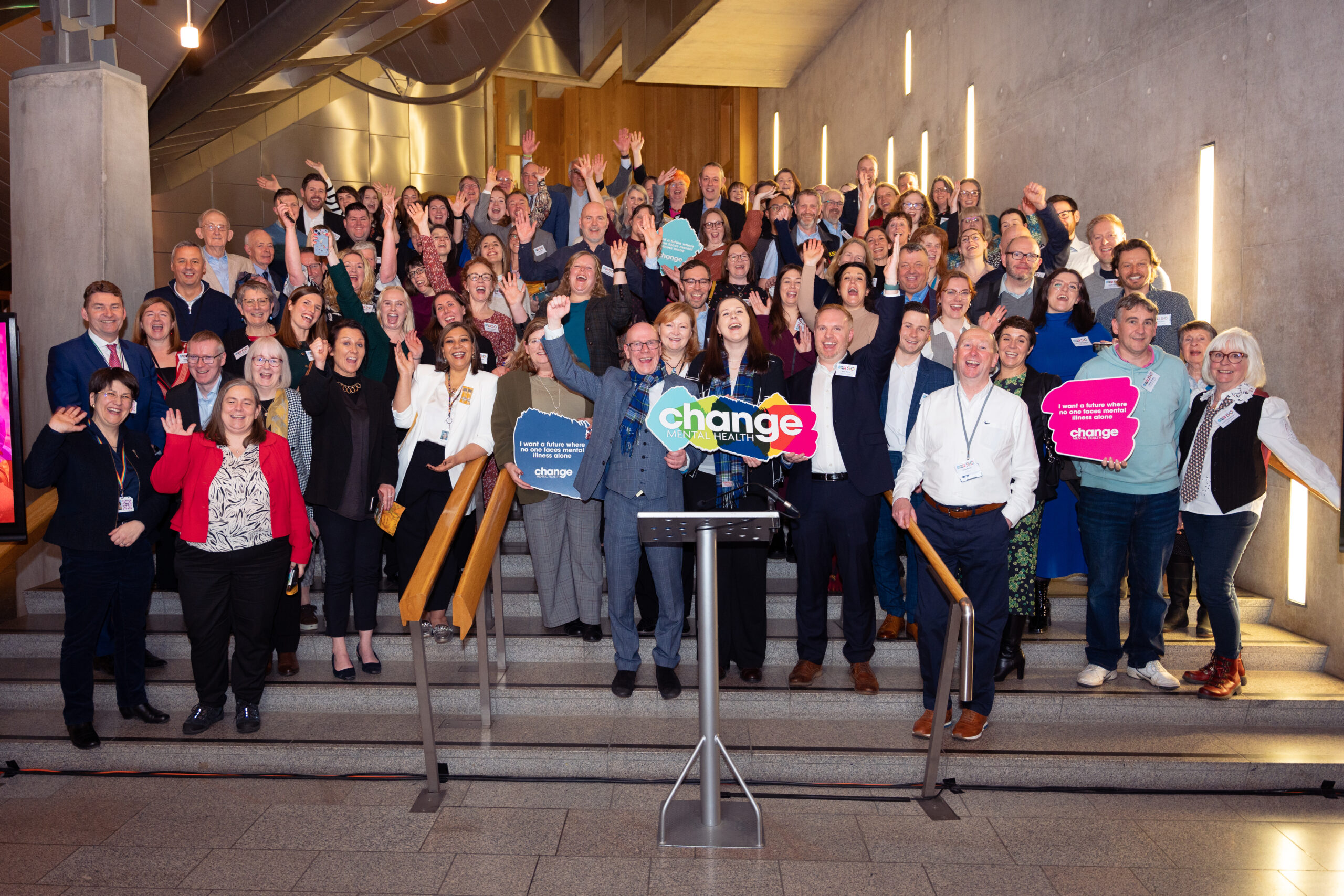 We celebrated 50 years of supporting people affected by mental illness and officially honoured our new name, brand and strategy with a reception at the Scottish Parliament.
For 50 years, our mission has remained the same: to help and support people affected by mental illness. We are excited to continue that journey as Change Mental Health and there was no better occasion to mark the next chapter than a reception at the Scottish Parliament.
It was an opportunity to celebrate 50 years of supporting people across Scotland and officially honouring our new name, brand and strategy. But it was also the chance to invite our many partners with whom we're achieving many great things together.
We had some wonderful speeches and showcased our 'who we are' video.
Emma Roddick MSP spoke about her own experiences with mental health, the work of the Distress Brief Intervention (DBI) in the Highlands, and the impact of Change Mental Health. Kevin Stewart, Minister for Mental Wellbeing and Social Care, mentioned his fondness for the DBI project, our work in the Suicide Bereavement Service, the National Rural Mental Health Forum and all of our services across the country supporting people affected by poor mental health.
We are driven by the lived experience of the people we support and work with. Lived experience is one of our core values. Charles Caina, who is a DBI Coordinator for Change Mental Health in the Highlands, spoke candidly about his story of using the Distress Brief Intervention service and becoming a staff member in November 2021.
"A year and a bit in, and it's been a journey of learning, and growing, and feeling a sense of accomplishment every time a service user expresses how the service has been helpful to them. It feels good to work in the role that has had a positive impact on me when I needed support, and to know that the work we do at DBI and Change Mental Health carries a positive influence to people."
Charles Caina,
DBI Coordinator, Highlands
Change Mental Health
Our Chair of the Board, Greg May, outlined the history of the organisation – from how our roots began as National Schizophrenia Fellowship, became Support in Mind Scotland, and now Change Mental Health – and how we've changed attitudes, particularly in relation to severe and long-lasting mental illness.
Nick Ward, CEO of Change Mental Health, mentioned that "the existence of Change Mental Health is a testament to the passion, commitment, love and endurance of people affected by mental illness and their families." Nick explained why we had to change our name, explained our new strategy and how we have come so far but still have far to go.
"We needed to change our name, refresh our values and create a new strategy. No more throwing of hands into the air and declarations of 'what is to be done.' We know what needs to be done: the community based, early, preventative support that we and others offer need to be funded and prioritised.
"We became 'Change Mental Health' because that is what we want to see. It is a call to arms for the system and for Scotland to be better, for us as an organisation and a sector to do better."
Nick Ward
CEO, Change Mental Health