Fife Women's Group: Peer Support in the Community
The weekly group is a way for people with similar experiences to meet and connect on a regular basis so they can create supportive networks and build confidence with other people.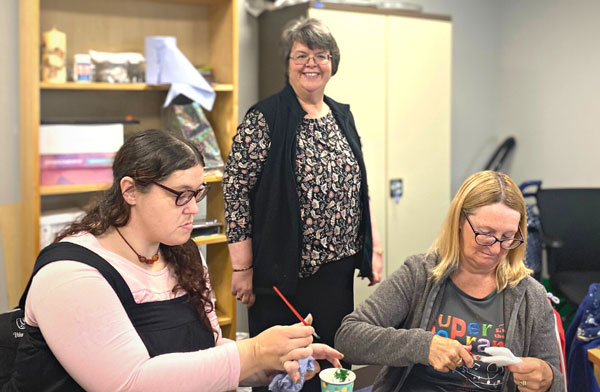 Change Mental Health's Resilience service in Fife provides one-to-one support and facilitates Community Peer Support Groups. This person-centred approach focuses on the individual's needs and circumstance, and what support will best help them improve their mental and emotional wellbeing.
Community Peer Support Groups, like the weekly Women's Group, are a way for people with similar experiences to meet and connect on a regular basis so they can create supportive networks, build confidence with other people, lift each other up during difficult times and most importantly, have fun in an environment which welcomes people regardless of their background.
Marion is part of the Fife Women's Group and is a member of Tourette Scotland. When Marion first reached out to Change Mental Health, she was put in touch with our Resilience service and offered weekly one-to-one support to help improve her mental and emotional wellbeing. She has now built up a strong relationship with her Support Worker, Moira.
"I don't know where I'd be without Moira. When you go through hard times in your personal life it can be difficult to manage when you have a mental illness, especially all the practical stuff. Moira helped me with everything from legal stuff and filling out forms, to just listening to me talk about my problems. She's always there when I need her."
Marion,
Fife
Once Marion built good relationships with our team in Fife, she was encouraged to join the weekly Women's Group – which provides community-based peer support for women affected by mental illness. Marion has now been going to the group for several years, and says:
"We're like a wee family. I don't go out much because of my mental illness. I just don't want to leave the house most of the time. But with this group, I actually want to come. I look forward to it – it's my weekly outing that I commit to. We support each other and nobody judges you."
When speaking to other women in the group, they all echo Marion's comments and say: "it's got a family feel" and "it's non-judgemental."
One group participant said: "I've only been here a short time but I really feel like I belong. It's hard to find a place like this. Due to my hardships with other people, I find it really hard to connect. I was scared of people and isolated before I started coming to this group. Now here I am chatting to everyone and it's great."
The primary purpose of the group is to meet and connect. Activities are optional, however many of the women enjoy getting creative and making greeting cards, decorating plates, knitting and much more. The group share their skills and help each other with new ideas.
Marion said: "I feel much more creative since joining the group. Now I look around the house at where I could decorate, or if there is something I'm not using or thrown away that I could turn into something new. I like to think I've built a bit of an eye for it!"
Our Advice and Support Service is open Monday to Friday, 10 am to 4 pm, where advisers can signpost you to local support that most fits your needs, including our own Change Mental Health services. We offer initial advice on money worries and help to deal with emergencies.
Contact 0808 8010 515, email us at advice@changemh.org or fill out the enquiry form on the Advice and Support Service page.
For more information about our Fife services, contact our Fife team.