Lorna's story: Volunteering to deliver change
Lorna is the first person people see when they enter our service on Munches Street in Dumfries and knows when you have been through it yourself, it's understandable what people are going through when they come through the door and ask for help.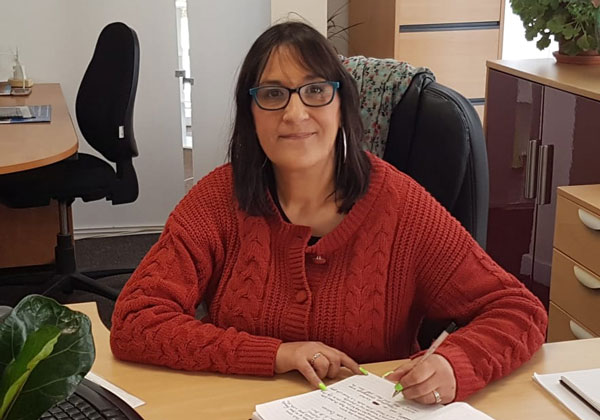 "When you have been through it yourself, you understand what people are going through when they come through the door and ask for help. I was one of them."
Lorna first went through the Employability service doors in 2018 when she found herself out of a routine and isolated in her home. This started to impact on her self-esteem and overall wellbeing, so she made the decision to ask for help. After a few years, Lorna realised she had the skills and confidence to want to give back and joined the project as a volunteer.
We celebrate people like Lorna, who with their time and enthusiasm help Change Mental Health transform the lives of people facing mental health challenges in Scotland.
"When I first started, I started attending 1 day a week, then quickly that became 2 days a week, then I was there every day they were open just because I enjoyed it so much.
They've done a lot for me since then by getting me out the house and giving me a routine. I think much more positively about life than I did before. Meeting new people has been especially good because it's given me so much confidence."
Change Mental Health deliver the Employability Service in Dumfries which provides opportunities for personal development and employability skills improvement, through a combination of group work and 1:1 support for adults who are affected by mental health issues.
Activities are aimed at improving or, in many cases, rediscovering skills that allow those taking part to lead a more active and valued role in society. The group activities range from art, crafts, sewing, digital photography, and IT based activities, through to discussion groups, driving test theory and literacy and numeracy. There is also a creative writing group, which Lorna has been taking part in since 2018.
"At the Creative Group we were given a new topic to write about every week which is really fun and sometimes challenging. It's a way we could express ourselves and tell our story – and I love hearing everyone's story. Each one different but we could all connect to each other. It shows that when you're going through something you're not alone, there is someone else going through it too."
Lorna's volunteer journey began in 2020, and when the Employability Service opened its doors back open in 2022, Lorna was delighted. Now she is the first-person people see when they walk through the door, signing them in and welcoming them to the space.
"I wanted to volunteer because I was inspired to pass that feeling on. I love welcoming people because I know how it feels for everyone visiting. Some people come in nervous at first so we have a chat, and I will help them feel more comfortable. I know what they are going through, and I know how much they will benefit from coming here."
"I think any charity would benefit from having service users get involved in volunteering. We want to give back and we have a first hand understanding of what it's like for people. But I also recommend volunteering if you're passionate about helping people. It's great seeing the people that come in nervous on their first visit seem full of confidence a few weeks later. It's a nice feeling. A win-win, because they feel better, and you do too."
"It's the little things, like the kindness people show each other, that make a big difference."